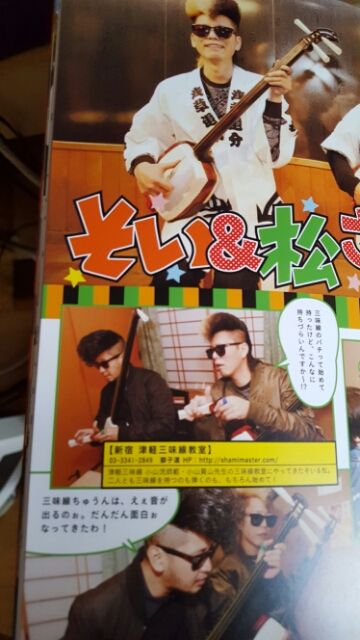 Japenese Rock Band Kishidan who wear the Japanese bad boys . costume come to experience shamisen.
Guitarist Ranama ans Bass Mastu came to be able to play Tsugaru Jinku in surprisingly one hour and after that they play tsugaru jinku at Oiwake, minyo bar in Asakusa.
Guitarist Ranma cut his right finger,and bled, That becomes a memory :)
http://www.shamimaster.com/lesson.html
This photos appear on the newsletter of their fan club.
ようやく情報解禁です。氣志團 ギターとベースのランマさんとマツさんが体験に来られ、
1時間で津軽甚句を弾けるようになって
その後浅草の民謡居酒屋追分で飛び入りで津軽甚句を演奏したそうです。
氣志團ファンクラブ会報に写真でその時の様子が載りました。
ランマさんが右手の小指から出血してしまい
氣志團の血つき三味線という記念になりました!?
one night carnival のリフも弾いてもらいました♪
http:www.shamimaster.com/kyoushitu.html